Serving the communities of Viking, Ryley, Holden, Bruce, Kinsella, and Irma. The Weekly Review is a weekly newspaper dedicated to giving quality news and information to its readers. After a quarter of a century in business, The Weekly Review is as strong and reliable a news source as ever before.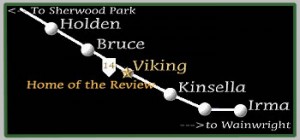 The Viking Weekly Review circulates by paid subscription, serving Viking, Ryley, Holden, Bruce, Kinsella, Irma, and the surrounding areas. With a circulation of nearly 1,700 people, The Weekly Review provides comprehensive coverage both within the town and Beaver County.
HISTORY
The Viking News first began publication in May of 1913, founded by John. W. Johnston. It enjoyed 66 long years of service, surviving the Great Depression and two World Wars.
In February of 1978, the first edition of The Weekly Review arrived in mailboxes and in stores, established through a partnership of Lane Carrington, Dick Morris, and Monte Keith. In July of 1979, a sale was finalized by The Weekly Review ownership for the publishing rights and all back-issues of The Viking News (then owned by Kim Harrold and Doug Weeks). The two publications were then amalgamated, making The Weekly Review the primary source of all news, advertising, and opinions in Viking and area moving forward, which it remains to this day.
In 1982, Dick Morris became sole owner.
In January of 1983, The Weekly Review purchased the Thor Agencies building (the old bakery).
In November of 1993, The Weekly Review was purchased by Kerry Anderson and Rick Truss. The sale also brought with it the latest in digital desktop publishing technology.
In 2005, Kerry Anderson became sole owner of the publication, as well as The Tofield Mercury and The Community Press. At the end of that year, Kerry also founded the Lamont Leader based in Lamont, Alberta. This group of four would later be known as Caribou Publishing.
In summer of 2011, The Weekly Review was relocated to a smaller and more modern office on Main Street. In October 2012, the north main street building that had served as the headquarters for nearly 30 years was torn down to make way for potential future developments.
In May 2013, The Weekly Review/Viking News will celebrate its collective 100th year in business serving Viking and area.