Police release crime stories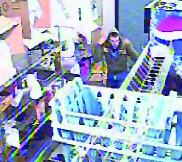 Submitted by RCMP   
    In recent months the Viking Carena Complex has been the victim of a rash of break and enters with the first taking place on Nov. 11, 2011 to the most recent taking place on April  4, 2012.
Suspects damaged doors and windows to gain entry to the building. Once inside, several it-ems were stolen varying from food stuffs and confectionary to electronics.
     Security cameras captured images of two male suspects.
Suspect one is believed to be in his late teens or early twenties with slim to medium build, brown hair, and possibly wearing glasses.
For more see the May 23/12 issue of the Viking Weekly Review