Viking grad publishes research article in medical journal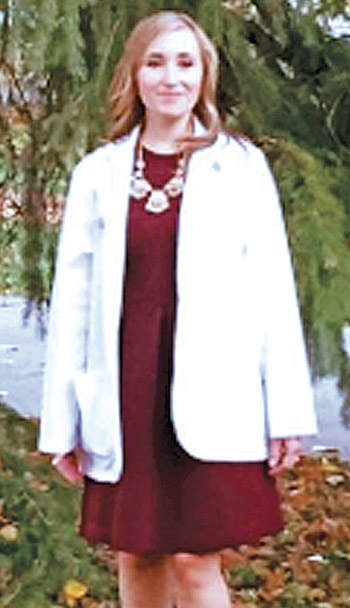 Viking School graduate Bailey Miskew recently had a medical research article published in the medical journal called Circulation: Heart Failure.
This is her seventh publication and she says this one is a "case study on the use of a Left Ventricular Assist Device (LVAD) in a patient with dilated cardiomyopathy as a result of their diagnosis with Limb Girdle Muscular Dystrophy. An LVAD is essentially a small pump placed inside the patient's body surgically to take over the function of the left ventricle in the heart. Normally the left ventricle functions to pump oxygenated blood to the body. Patients with some forms of muscular dystrophy also have the muscle in their heart affected by the disease. In this patient, the disease resulted in stretching out of the heart and altering of the electrical messages within it so it could not pump efficiently.
"Now that the medical therapies for muscular dystrophies are improving, patients are living longer, and as a result we are seeing how over time, the disease can have effects on other parts of the body such as the lungs, heart, and brain.
Heart disease is now the number one cause of death in muscular dystrophy patients. Less is known about how to monitor and treat heart disease in these patients.
This case study demonstrated that surgical techniques such as the use of a LVAD could be an effective and safe way to manage these patients. The information can be used to help physicians make decisions about which treatments to recommend for patients with heart disease resulting from Limb Girdle Muscular Dystrophy," she says.
According to Miskew, the journal can be bought or you can find it on their website.
Miskew is currently enrolled in the Medical Doctorate with Specialized Training in Research program (MD STIR) at the University of Alberta (U of A).
This program is "a medical degree with extra training in research in the first two years of medical school. It requires the student to do so many hours of research, do two presentations and complete a final report and defense at the end," says Miskew. Her most recent publication was arranged outside of school and was a paid position but the hours will count towards the STIR component of her degree.
Read the full story in the latest edition of  The Weekly Review – available on newsstands now!
Print is still the most effective medium. Attract LOCAL customers by supporting LOCAL media. ADVERTISE!
Jaimee Russnak
Staff Reporter