Solar energy information session generates interest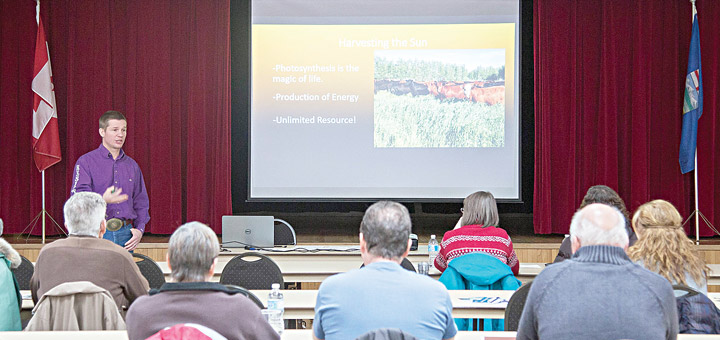 Tyler Hanson, who grew up in Viking and attended school there to Grade 6, hosted an information session in Ryley on Feb. 17 which focused on the various aspects of solar energy, and how it is a sustainable form already used by many communities in today's world.
Now the CEO of Elelmentium Energy Corp., Hanson said, "I believe solar energy can be of benefit to all rural residents as well as municipalities including Ryley and Beaver County.
"For example, when a grid-connected solar photovoltaic (PV) system is mounted to a building it will generate electricity, which in turn will lower the electricity needed from the utility grid and the utility bill will be much smaller."
Speaking of the many benefits and cost-saving dimensions of solar energy, Hanson further explained that when there is a surplus of electricity generated by the solar energy system there will be a credit applied to the utility bill.
"Currently there are provincial rebates available for energy-efficiency projects," Hanson added. "The Alberta Municipal Solar Program provides a rebate of roughly 25 per cent of the project; and our company has performed a few feasibility studies on a number of municipal buildings and discovered the electricity consumption to be very large."
Read the full story in the latest edition of  The Weekly Review – available on newsstands now!
Print is still the most effective medium. Attract LOCAL customers by supporting LOCAL media. ADVERTISE!
Moush John