County honours Remembrance Day, tenders one-year gravel hauling contract, re-thinks policy on beaver control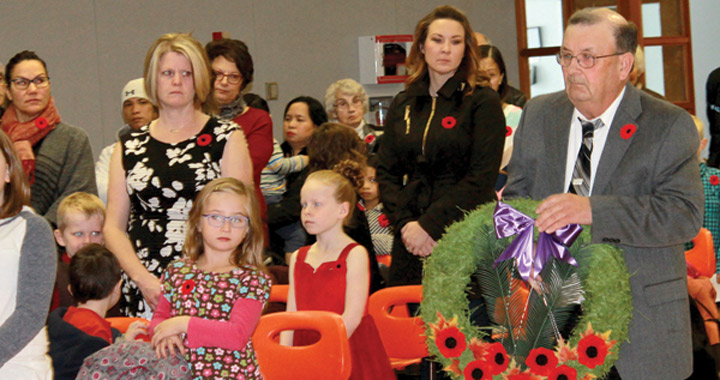 Services took place in Viking at the Community Hall on Saturday, November 11 as they did in many communities throughout Beaver County. Above, Division 5 Beaver County Councillor Dale Pederson laid a wreath with poppies on behalf of Beaver County at the same services.
At the first regular meeting of Beaver County Council, a motion was passed to post a tender for a one-year trucking contract, with the option of having two separate contracts – one for each end of the county.
The motion by Councillor Kevin Smook (Division 1) was also to have the option for a one-year extension on the contract(s).
The motion came after a great deal of discussion regarding gravel and road maintenance. Councillor Gene Hrabec (Division 3) wanted grader operators to tell the county which roads "absolutely have to have gravel in the winter."
Read the full story in the latest edition of The Weekly Review – on newsstands now!  
Print is still the most effective medium. Attract LOCAL customers by supporting LOCAL media. ADVERTISE!
Patricia Harcourt
Editor