"Lest We Forget" – Remembrance Day Services in Viking honour the fallen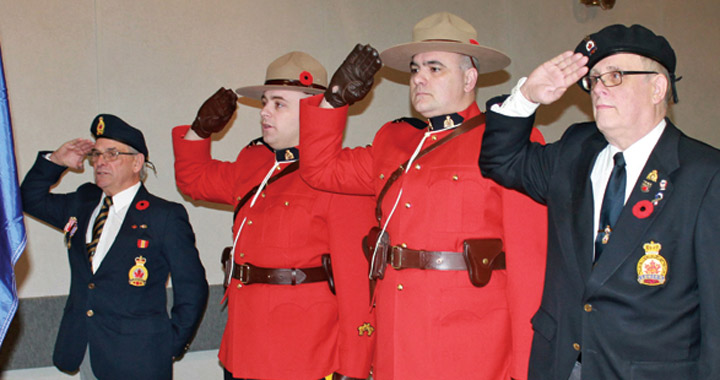 The community of Viking came out to Remembrance Day Services on Saturday, November 11 to honour those who paid the ultimate sacrifice for freedom.
The solemn services are meant to instill a sense of the enormity of that sacrifice – of the loss of local community members who served – and the people who were left behind to mourn, as well as all the Canadians who gave their lives to preserve freedom.
The Colour Party marched in and deposited the flags at the front of the Viking Community Hall. Everyone sang "O Canada." Onstage were Viking Legion President Elehda Sevcik, Legion Poem, Poetry and Essay Contest coordinator Penny Hammer, pianist Janet Nordstrom, and members of the Viking Ministerial Association: Pres Winter for the Holy Heart of Mary Catholic Church, Pastor Alvin Sorenson of the Golden Valley Lutheran Church, Pastor Harold Ferguson of the Kinsella Community Church and Pastor Darren Anderson of the Viking Alliance Church.
Read the full story in the latest edition of The Weekly Review – on newsstands now!  
Print is still the most effective medium. Attract LOCAL customers by supporting LOCAL media. ADVERTISE!
Patricia Harcourt
Editor